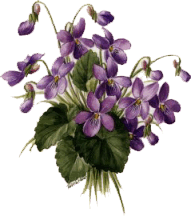 When I'm not crocheting I like to sit with a nice cup of tea and a good book and as I just happen to have a
violet cup and saucer
and its February, what else to use! I especially like old books, there is such a charm about them. This one here is from 1919. I start to wonder who had held this book before, what were they like, where they lived ... sort of dreamy, no?
February's
flower is the
Violet

.
Botanical Names: Saintpaulia Other Names: African Violet
Description: A five petaled velvety blossom.
Colors: purple, pink, white
Season: All year round
Meaning: Named for Baron Walter Von Saint Paul Illaire who discovered the plant in Tanzania in 1892.
Modesty, faithfulness, virtue.
One of the most popular flowering houseplants.
These are just a few of my violets. They are "sleeping" right now, when they bloom they are so beautiful.
May your dreams blossom. Wishing you abundant blessings.